All right – so yesterday was totally awesome!
🙂
We started out with a quick drive down to Johnny's Snack Bar where we ordered pancakes and sausages – and by my own personal standards, starting the day with pancakes is ALWAYS an awesome experience.
Of course my wife has told me that she has worn shoes that were higher than my own personal standards – and that was back when she used to wear flats!
Badoom-ching!
Then we took a short stroll through the Halifax Forum Farmer's Market and picked up some cat grass and some fresh strawberries. I had been hoping to pick up a bar of root beer soap – but the table with the soap didn't seem to be there that morning.
We then drove up to Canadian Tire store and I picked up a crow bar as well as a small easy-to-build storage shed. They were having a big sidewalk sale to raise money for their Kickstart program that helps poor kids buy new sporting gear and we picked up the shed at a VERY good price.
We got home and I used the crow bar to help demolish my front deck – which is now at the halfway mark. The crow bar made the work a whole lot easier.
Then we had a nap and watched a couple of new episodes of INKMASTER and then – FINALLY – we headed down to the ribfest.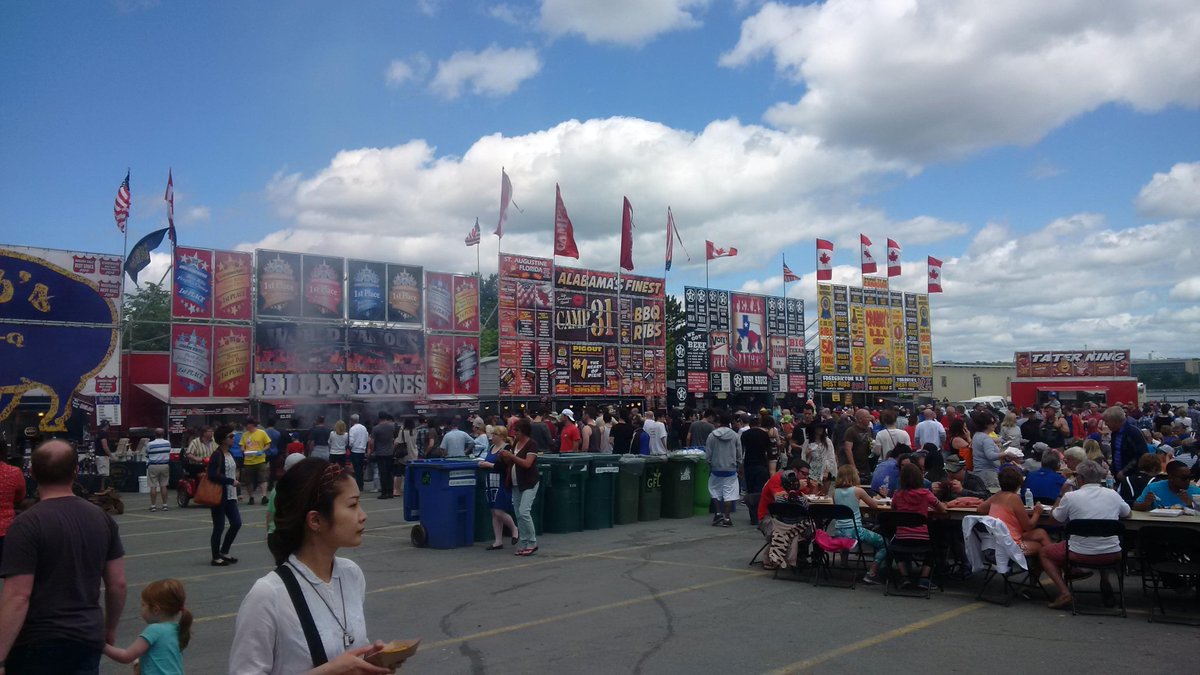 We started out with a feed from the good folks at CAMP 31 – because their cook crew were putting on the best show behind the grill.
We had a Porkster – which is a smoked sausage – smothered in pull pork and wrapped in a big old cheese bun – as well as a chicken and ribs combo.
We ordered a couple of cool bottles of iced tea and sat down and got to eating. Or, actually, my wife Belinda was treated to the spectacle of her husband falling snout first into a platter of pig-parts. All along we sat and listened to the wonderful country music of another local group – THE BAKERSFIELD BOYS
Let me tell you, so far out of the three rib stands we have tried this weekend the folks at CAMP 31 ranked highest. Their ribs were sweet and tender and the sausage had a distinct savoring aftertaste of apples and hickory smoke and I am pretty sure that chicken could have bench pressed a good-sized Buick.
"That's good eating," I said around a mouthful of pig parts.
"What'll we do about dessert?" Belinda asked.
"I want me some corn bread," I said.
Now, you have to understand that I have discovered that my natural country twanginess seems to naturally intensify around the proximity of barbecued ribs and by now I was sounding like I ought to be auditioning for the next reboot of DUKES OF HAZARD.
Now what Belinda didn't know was that I wasn't JUST thinking about dessert – but I was thinking about second helpings. So we walked up into the line-up at the SILVER BULLET which had a sort of a handmade-looking sign that read SWEET CORN BREAD $3.00.
While I was in the line-up the fellow in front of me turned around and it was Calum Johnston – the owner of STRANGE ADVENTURES. Well, Cal began to rhapsodize about all the ribs that he had eaten here at the Ribfest and his words touched something deep down inside of me – somewhere close to my pancreas – and I turned to Belinda and I asked "How about more ribs."
(that's right – I lay the blame on Calum)
"You want more ribs?" Belinda asked in disbelief.
"I haven't had enough ribs today," I told her. "You can see that I am a mere shadow of myself. I am practically fading away into nothing before your eyes."
"That's a big old shadow you are talking about," Belinda pointed out. "But while you are at that you ought to get beans and coleslaw along with it so that you can tell everyone that you ate some greens at the Ribfest."
That's why I love that woman.
She thinks the same way that I do.
🙂
So we got ourselves another heap of ribs and they were awfully good and the corn bread was hot and wonderful even though I didn't have any maple syrup to slather it with – but the highlight of the second meal of the evening was their beans which had that hot and spicy Texas-style flavor that always makes me hang back my head and howl like a lovesick puppy dog.
So after that we listened to a bit more music and then came home and watched a couple of episodes of SONS OF ANARCHY and ate some ice cream and drank some beer.
Let me tell you – RibFest rocks!
yours in storytelling,
Steve Vernon